Discover more from Clear Mind
Talking about the Human Experience - Mind, Meaning, and Motivations - whilst going off at a tangent to explore spirituality, philosophy and the things that excite and irk.
Why can't I sleep?
Why can't I sleep?
Sometimes sleep simply evades us. We feel tired, perhaps overtired, but when we close our eyes our busy head takes over and we simply can't catch the sleep train...
So why can't you sleep?
An interesting idea is that during the day our conscious mind, thought processes and hence behaviours, are under the supervision of a number of 'modules' in the mind. These modules are all part of our subconscious and so we are rarely aware of them. Well, that is until we are aware of them! They can be thought of as sub-selves that emerge in response to the environment we find ourselves in what 'evolution' has defined as useful behaviours.
I think of it in terms of a lava lamp (yes that dates me), in which various aspects of our 'mind' and 'behaviour' rise to the surface to meet needs that we don't (immediately) consciously recognise.
Kenrick suggests these modules would include behaviours and thinking to do with 'mate attraction'; 'mate retention''; 'disease avoidance'; 'survival' and so on.
All of these modules suppress what could be seen a 'default' module - one which observes rather than participates.
So, when we sleep, this observer module rises to the surface (using my bubble lamp analogy) and comments on what it has been observing during the day. It is the chattering monkey who reviews, previews, plans, plots - the 'busy head syndrome'
Now if all of that sounds far too exotic for you we can simply say...
During the day your default thinking is about what is happening.
During the night your default thinking is about reflecting (on the past, the present, the future, the possible, the impossible, the possibly possible and so on).
This is what keeps you awake.
Establishing habits that help quieten the monkey and soothe the busy head can be really beneficlal.
Amongst those habits, people have reported success with the following.
Making your bedroom your bedroom,
Make it a haven for relaxation and not an extension of your office.That means no laptops, checking of emails and social media.
Stop working well before going to bed
Stop working well before you retire and engage in something that is about your development. Reading, Reflecting, Journalling, Learning - CHILLING
Reviewing your day
Review the day and preview the following day BEFORE going to bed. Journalling is good here.
Bring yourself to the NOW
Practice mindful mediation as a regular part of your daily routine.
Here are some more ideas which may work for you.
When you go to bed (and here opinions vary) you could read something or listen to music until you start to feel tired.
I have found this does vary greatly from person to person. Some peoples minds are made more active by doing this before sleep
When you turn out the lights, become mindful of the feelings of relaxation you start to experience. If a busy thought breaks through, acknowledge it then let it pass.
Try these ideas out and create your personal bedtime routine.
For me, if I really can't catch the 'sleep train' or my 'busy head' keeps nagging, I find that getting up and doing something about what's nagging me, tackling a task my head keeps reminding me about, is often better than getting frustrated by not being able to sleep.
If your problem is your monkey-mind chattering away that keeps you asleep; or anxieties and worries that bother you then the last thing you want to do is make your mind work harder.
Look at your sleeping habits.
Do you eat before trying to sleep? Do you take a mobile phone or tablet to bed? Do you have other distractions in your bedroom? There is something in the idea of making your bedroom, the place you sleep, a sanctuary devoid of any of the everyday distractions of the waking day.
You need to still your chattering mind.
Two useful techniques,
Rather than counting sheep, or activating your imagination, simply keep saying to yourself all of the things you are feeling IN THAT MOMENT. Start to focus on feelings of being in the bed, lying down, breathing slowly, feeling the warmth of the duvet on your body.
Secondly, take control of the monkey chatter by giving it a job. Taken from mindfulness practices, try this Square Breathing Technique
Relax and establish a gentle breathing pattern of IN through your nose and OUT through your mouth. Keep your lips slightly parted as you do this so the flow of air is smooth.
Ensure that as you breathe in it is your stomach that is rising and falling on each in-breath and out-breath.
Most of us breathed with our chests rising and falling,
Focussing on the tummy rising and falling is shifting your breathing from shallow to deep.
Once you have all that working, take more conscious control of your breathing by…
Breathe in for a silent count to four…
HOLD for a silent count of four…
Breathe out for a silent count of four…
HOLS for a silent count of four…
Breathe in for a silent count of four…
and continue.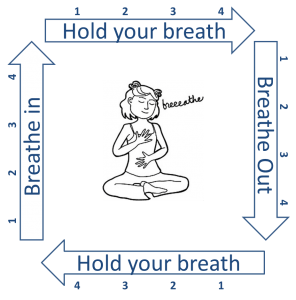 Your monkey mind now has a job. It's counting your breathes and so may stop bothering you as much….
Hope that helps or gives you a couple of ideas.
Alan /|\
You may like to consider joining our FREE mindfulness sessions.
You also might like this article too.. Nine Steps to Inner Peace