Discover more from Clear Mind
Talking about the Human Experience - Mind, Meaning, and Motivations - whilst going off at a tangent to explore spirituality, philosophy and the things that excite and irk.
Some thoughts on Reiki
Some thoughts on Reiki
The system of Reiki was developed by Mikao Usui in 1922 whilst performing Isyu Guo, a twenty-one-day Buddhist training course held on Mount Kurama.
The details of this ritual are not known for certain, but it is likely that it would have included meditation, fasting, chanting, and prayer.
At the end of the 21 days, it is said that Usui had a revelation in which he was inspired to teach a form of healing using 'universal energy'.Importantly this revelation was accompanied by the necessary knowledge of how to 'attune' others so as to enable them to access this system of healing.
In April 1922, Usui moved to Tokyo and founded the Usui Reiki Ryoho Gakkai which translates as Usui's Spiritual Energy Therapy Method Society in order to continue treating people on a large scale with Reiki.
Usui's system was taught to over two thousand people during his lifetime. More importantly for today's practitioners, sixteen of these students continued their training to reach a level known as Shinpiden which we know in the West as the 3rd or Master/Teacher degree.
Apart from the healing system Usui, a fan of the philosophical Emperor Meiji proposed five principles for 'right living'. These can be summarised as follows:
a) The Secret Art of Inviting Happiness
b) The Miraculous Medicine for all Diseases
c) At least for today do not be angry, do not worry, be grateful, work with diligence, be kind to people
d) Every morning and evening, join your hands in meditation and pray with your heart. State in your mind and chant with your mouth.
e) Work for improvement of mind and body.
The 'traditional' system of Reiki was developed by Usui and his students and did not leave Japan. During the 1990's it appears that a group of western seekers traveled to Japan to learn the system and were, apparently, initially turned away.
The Five Traditions of Reiki
Five traditions of Reiki were established in Japan.
Usui Reiki Ryoho Gakkai - "Usui Reiki Healing Method Learning Society" is the name of the society of Reiki masters founded by Mikao Usui.
Reid Reiki Gakkai - "Spiritual Occurrence [and] Spiritual Energy Society" is the name given to the system that derives from the masters of the Rya Gakkai, and was led by Fuminori Aoki. These teachings still remain secret, but little by little, members of this association - such as Master Hiroshi Doi - have been sharing their knowledge with the rest of the world. In spite of this, it continues to be a hermetic society, nearly impossible to access.
Reiki Kai - meaning "Enlightened Spiritual Energy Meeting (Association)" is the name given to the system that takes the name of a school of Japanese Traditional Reiki, and was established by Hyakuten Inamoto, a Reiki teacher with a Western Reiki background. It differs from other systems in that it does not originate with the Gakkai but instead comes from the Hayashi line, through Chiyoko Yamaguchi that remained in Japan.
Jikiden Reiki - meaning "The Direct Teaching Spiritual Energy" is the name given to the original system that was taught by Dr. Hayashi, and was founded by Mrs. Yamaguchi and her son, Tadao Yamaguchi.
What we know of as Reiki in the West can be traced back to Hawayo Takata who was a student of Hayashi (Jikiden Reiki). The principal difference between the traditions is the use of set hand patterns for internal treatments instead of the intuitive skill of "knowing where to place the hands". Traditional Gakkai had a complex series of hand movements and Takata can be credited with making the system 'easier for Western minds to comprehend.
The Three Western Schools
The 'Western Traditions' have developed into three schools.
Usui Reiki Shiki Ryho -commonly translated as meaning "Usui's Spiritual Energy Style of Therapy", but a more literal translation is "Usui's Spiritual Energy Style of Medical Treatment" (medical treatment). This system is said to be as close as possible to the original practices of Hawayo Takata.
In this system, there are three degrees of training - First, Second and Master.
Those trained in this system are expected to be able to demonstrate their lineage, by that I mean their link to a 'teachers family tree' which locates their Master and eventual Mastery.
Usui/Tibetan Reiki is the name given to the system that was developed by Arthur Robertson and later popularised by William Lee Rand and Diane Stein. This system is derived from Usui Reiki as taught by Takata and includes techniques from the Usui Reiki Ry
Unlike Usui Reiki Shiki Ry has four levels, commonly called First Degree, Second Degree, Advanced Reiki Training and Master/Teacher
Gendai Reiki Ha meaning "Modern Spiritual Energy Method" is a system that incorporates elements of both Japanese and Western Reiki, and was established by Hiroshi Doi. Doi was first trained in Western Reiki by Mieko Mitsui, a Master of the "Radiance Technique."
The Three Pillars of Reiki
The Three Pillars of Reiki as currently taught in the West can be described as:-
Gassho (two hands coming together") is a meditative state where both palms of the hands are placed together and was practiced each time at the beginning of Usui's Reiki workshops/meetings.
Reiji-ha "indication of the Reiki power method" is a means of connecting with the Reiki power by asking it to flow through the practitioner three times, and is commonly split into three parts.
Chiry "medical treatment" requires the practitioner to place his/her dominant hand on the crown chakra and wait for hibiki ("feedback") in the form of an impulse or inspiration, which the hand then follows. During Chiry the practitioner gives free rein to the hand, touching painful areas of the body.
A Rational Thought or Two:
If we appeal to science and scientific method then there is no evidence for the proposed mechanism of Reiki, or any other healing modality relying on body energy, chi, or ki.
In 2008 a review of randomized clinical trials in the application of Reiki was inconclusive at best and showed no efficacy at worst.
Of course, the difficulty of controlling such trials and tests where any form of 'blinding' is used is a challenge to any such research. My rational self is satisfied that in terms of the 'energy' claims of Reiki we are dealing with the Placebo effect even though a 2009 review in The Journal of Alternative and Complementary Medicine found that "the serious methodological and reporting limitations of limited existing Reiki studies preclude a definitive conclusion on its effectiveness".
A Mystical Thought or Two:
There is a clear psychological effect, and hence a beneficial consequence, of any form of therapy involving relaxation and the "freely given attention of another."
The personal, subjective experience of giving and receiving many complementary treatments, particularly those involving touch, is real and it, therefore, seems reasonable that 'feeling' relaxed results in ''positive attitudes" which do have a positive effect on the mind-body system.
In my opinion, it is wrong for any alternative or complementary practice to claim curative effects on a physical level. I would argue, however, that 'relief' and 'positive mental attitude' can be achieved from a person-to-person interaction that has a positive, supportive, and clearly focused intention.
As long as those practicing complementary therapies work on the basis of 'cause no harm' and defer to medical practitioners I see the time, care, attention, and contact that can be offered by a 'healer' to be of great benefit to those in pain.
The meditative practices of Reiki are certainly beneficial to the practitioner and the calm, caring and supportive atmosphere they can create for their 'clients' will be effective on the personal level.
There is a sense in which 'people heal themselves, note the research which supports the notion that optimists outlive and 'heal' faster than pessimists, and hence the intervention of a caring, listening and positive intentioned 'healer' is of value.
The reason therapies are called 'complementary' is that they support orthodox treatments rather than negate or replace them. I have met well-meaning therapists whose own negative attitude to 'orthodox medicine' and the attitude they take negates any of the psychological support they can give.
The spirit of Reiki is, I believe, about the quiet, careful, and non-prejudicial support of those in need and not the promotion of any technique over another.
As I have written elsewhere the spiritual and personal support a complementary therapist can bring is not based upon the scientific claims they often seek to make. What is of value is the way they can support another to be able to make choices; to be mindful; to feel relaxed; to feel cared for and to experience a degree of intimacy.
We can't measure love, but we can feel it and it's a great motivator.
Perhaps the universal energy some speak of is not measurable but stems from the way we can experience and relate to each other and the cosmos.
Now before I get complaints and negative feedback from 'energy healers out there' can I state that I am a Reiki Master of the Usui Reiki Shiki Ryho tradition and a lineage that links directly to the twenty-two Masters trained by Takata.
The practice of Reiki is about the practice of humility and about seeking to 'be present''. It is still something I aspire to and like all aspects of Mastery, I do not accept that my Third Degree makes me a Master, but releases me on the journey of mastery.
Mastery in any discipline is about the journey and not the destination.
Final Thoughts
There is a lot of evidence to suggest that Usui's main focus was not on the healing of others. Reiki is a personal, spiritual practice for 'self' healing.
Usui  did not refer to attunements, simply calling them 'blessings' and did not follow a 'grade system'
Moreover, the Christian gloss given to his teachings was a result of Mme Takata's adaptation of Reki for the West.
Nwyfre, is a reconstricted Druid word for what we could think of as Reiki, Universal Energy. If you would like to explore more about this system you can get my book, Nwyfre, Celtic Reiki, Here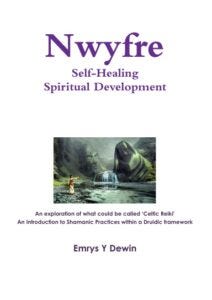 You might also like this article: Nine Steps to Inner Peace